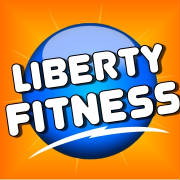 Welcome to Liberty FITNESS CENTER
We have been in business in Liberty, NY, since 2002. We know you don't have alot of time to search for what you need. Liberty Fitness Center's floor plan is well organized to help you move from workout to workout quickly. There is plenty of room to exercise, meet new friends, and discover new ways to workout. Find us on FaceBook and LIKE US! At our facility, you will discover 2 floors of fitness fun where you can work out comfortably and efficiently. Ladies Only Classes offered in a Private, spacious room!

MEMBERSHIPS FROM 1 DAY TO 1 YEAR!
Motivating! Exciting! Fun!
We accept the following credit cards:

We are proud members of the following organizations: